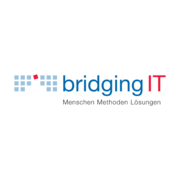 The
considering
the
whole
value
chain
standard.
As a technology consultancy and full service provider, bridgingIT accompanies customers from different industries in accomplishing digital transformation. We apply a holistic and strictly manufacturer-independent approach, offering IT solutions tailored to your specific requirements. Our company provides these services by bringing together a wide range of skills and an optimal mix of technical and methodical expertise. With a holistic end-to-end approach, bridgingIT and its wholly owned subsidiaries fastahead, Heidelberg Mobil and craftingIT, promote innovation along the entire value chain of its customers.
As an omlox Core Member, bridgingIT has been part of the initiative from the very beginning and offers its customers the technical integration of individual systems as well as related consulting and services for the optimization of processes and IT landscapes.
The ability to simplify the inspection of logistic processes, to evaluate and visualize their implementation and then optimize them is vital in our opinion. Transparency regarding the dependencies between logistics and production is often missing; however, it can be achieved quickly and independently of other systems.
The analysis of meaningful key figures and associated process steps allows improvements to be derived quickly, thereby increasing operational efficiency and productivity.
The potentials of digitization offer great opportunities for the manufacturing industries. Application scenarios and their benefits are becoming increasingly clear and the first pilot programs are already being tested. Accordingly, the IT infrastructure, the application landscape and the process landscape of the respective companies must be examined, adapted or newly established.
We combine the integration of the omlox platform into the application landscape with an analysis of the customer's actual processes in order to understand and improve the logistics procedures. The omlox platform allows the visualization and measurement of procedures, uncovers the potential for waste and helps to optimize the overall process. We link Lean Management directly with the integration of omlox.
Where logistics processes are measured, personal data in the form of movement profiles, time lines and whereabouts inevitably arise. In order to be absolutely compliant with the GDPR in this respect, in-depth expertise is required in the implementation of use cases, such as asset tracking, visitor and contractor management. BridgingIT delivers this know-how in the integration projects as an additional service, if required.
In addition, we support our customers with the following services:
Digital mindset
Development of economic and technically feasible business cases
Process and methodical expertise
Establishment and operation of IT infrastructures
Software engineering
Interface competence
Analytics know-how
Technological know-how: Blockchain / DLT, Cloud, VR/AR
Security / GDPR
Operations
We are a reliable partner for our customers in the following industry-relevant fields:
Digitization of the after sales processes for increased value added
Digital ecosystems in the procurement process and in service
Digital transformation in intralogistics
Lean digital enterprise in manufacturing
Digital change & transformation in the sales process
Introduction of digital shop floor management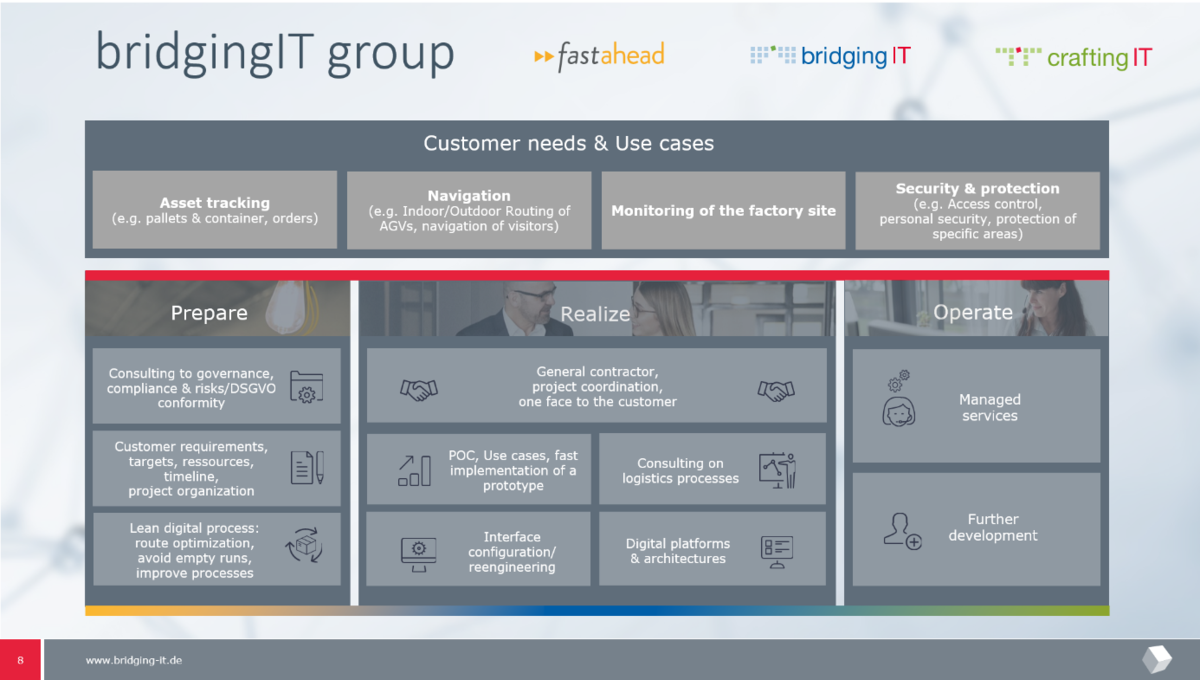 As a technology consultancy and full service provider, bridgingIT accompanies customers from different industries in accomplishing digital transformation. We have been helping our customers to start their journey in digitalization with our diverse expertise and technology know-how.
Contact
Heiko Viertel
Manufacturing Practice Lead, bridgingIT group
Email: heiko.viertel@bridging-it.de
Website: https://manufacturing.bridging-it.de/