Our partner:
Cosmoplat Haier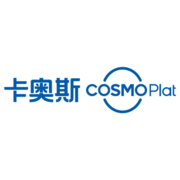 The
open locating

standard.
卡奥斯COSMOPlat:创全球引领的世界级工业互联网平台(中英文)
卡奥斯COSMOPlat是海尔集团基于"人单合一"管理模式和"大规模定制"生产模式打造的工业互联网平台,致力于为不同行业和规模的企业提供全场景的数字化、智能化、定制化解决方案,构建"大企业共建、小企业共享"的产业新生态。
The COSMOPlat is an industrial Internet platform built by Haier Group based on mass customization and the Rendanheyi model. It is devoted to providing digital, intelligent, and customized full-scenario solutions for enterprises of different industries and sizes and building a new industrial ecosystem of "large enterprises building together and small enterprises sharing together".
"卡奥斯"的名字来源于古希腊神话中的"元始之神",寓意在混沌中创造新生。成立以来,卡奥斯COSMOPlat持续投入科技创新与平台能力建设,赋能范围已覆盖15个行业大类、全国12大区域,并在全球20多个国家推广复制。
The name "COSMOPlat" comes from the Chaos God in Ancient Greek Mythology, meaning to create a new life in chaos. Since its establishment, the COSMOPlat has expanded to 15 industries and 12 major regions in China and has been replicated in more than 20 countries. Behind this are the continued efforts of the platform in scientific and technological innovations and platform capacity building.
作为工业互联网领域首个独角兽,卡奥斯COSMOPlat连续两年入选国家工信部"跨行业跨领域工业互联网平台",先后揽获中国管理科学奖、德国工业4.0奖、中国工业大奖,为世界贡献两座灯塔工厂,牵头或参与制定40余项国际、国家标准,并受邀参与欧盟GAIA-X计划,用工业互联网推动全球产业变革。
As the first unicorn in industrial Internet, the COSMOPlat has been promoting global industrial transformation with the industrial Internet all the time. It has been selected into the cross-industry and cross-field industrial Internet platforms by the Ministry of Industry and Information Technology, China for two consecutive years. It has won numerous honors, such as China Management Science Award, the German Industry 4.0 Award, and China Grand Awards for Industry. It has built two lighthouse factories; has led or participated in the drafting of 40 international and national standards. Upon invitation, it has also become a member of the EU's GAIA-X program.