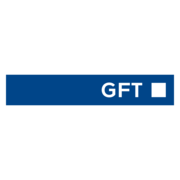 The
full
transparency
standard.
GFT is driving the digital transformation of the world's leading companies in the financial and insurance sectors, as well as in the manufacturing industry. As an IT services and software engineering provider, GFT offers strong consulting and development skills across all aspects of pioneering technologies, such as cloud engineering, artificial intelligence and the Internet of Things for Industry 4.0.
Since locating services and positioning technology are an important and promising market for the industry, GFT has become a part of omlox to provide customers significant added-value thanks to interoperability and real-time location. We set the topic as one of our priorities for GFT Industry and anchored it in the strategy, to accompany industrial companies on the way to a smart factory.
omlox is an ideal supplement for our existing offering around location-based services. With the large network of omlox we are able to extent and upgrade our offering for the customers with reliable partners. Since omlox enables interoperability we can work with different suppliers and providers of positioning hardware and software. Due to our long-term experience with locating services we can consult customers from the very beginning and are always able to find the best solution for every use case. So, the customers get an "all from one source" solution, from use case definition till project implementation, and don't have to worry about combining different providers. Since GFT has the expertise to combine locating data with other production related information and systems, customers can also benefit from a fully transparent production. For instance, we were able to demonstrate our experience in the area of location solutions at a major German car manufacturer in 2019 already.
We offer customers consulting services to identify viable use cases for locating services in just 3 days. On the basis of a workshop we develop the appropriate solution using best-practice models that deliver real benefit – all based on many years of experience in the mechanical engineering and automotive industry and with the implementation of smart factory projects. While the realisation of the projects we support customers from planning phase until the worldwide roll-out. Since system integration is our home turf, we are able to implement solutions fast, use open standards and work with different protocols.
With our omlox adapter, that is compatible with omlox and our IIoT platform sphinx open online, we are able to implement use cases that connect data of business processes (horizontal integration), machines and components (vertical integration) and locating technology to ensure full transparency. As an example it is possible to locate products, equipment or vehicles in the factory. Based on this the production process can be monitored using a digital visualisation of the production with moving objects like material, forklifts or robots. On a dashboard information regarding the production status of the various orders can be displayed that are gathered by location information from material or vehicles. On this data basis production staff and even employees from other departments can be informed about the current status in real-time. So further processes like the next production step or the shipping or billing process can be initiated. In short, with the solution customers get rid of time-wasting searching for products, materials or vehicles and benefit from displaying the location and status of moving objects in buildings and elsewhere on site. Furthermore, events can be triggered when people or objects enter or leave defined areas (geofencing). So, with the solution the automation of the production environments and self-managed processes gets supported.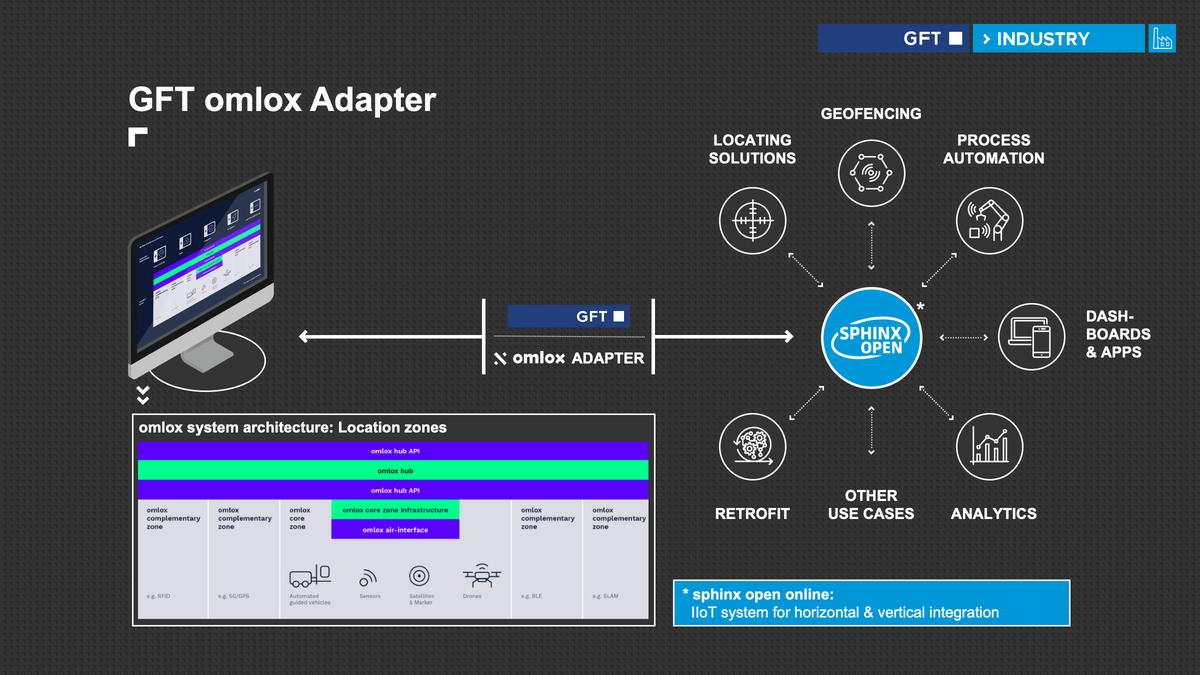 GFT is driving the digital transformation of the world's leading companies in industry, finance and insurance. As an IT service provider and software developer, GFT offers sound consulting and development services for all aspects of future-oriented technologies such as IIoT, Industry 4.0 and localisation solutions.
With comprehensive technological competence, deep market knowledge and strong partnerships, GFT implements scalable IT solutions and thus increases productivity. Customers get access to new IT applications and innovative business models.
Contact
Mathias Teufel
Sales Industry - Senior Account Manager
GFT Technologies SE
Email: Mathias.Teufel@gft.com
Social Links
LinkedIn: https://www.linkedin.com/company/gft-group/
Twitter: https://twitter.com/gft_en?lang=de