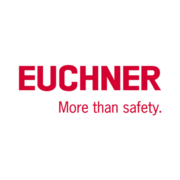 The

open locating


standard.
EUCHNER GmbH + Co. KG in Leinfelden, near Stuttgart, is an international family business with more than 900 employees worldwide. 19 subsidiaries cover the world along with 22 sales offices. The company is managed by Stefan Euchner.
Safeguarding people, machines and processes is the main focus of EUCHNER's activities today. Wherever people and machine meet, our safety components help to minimizing hazards and risks for workers for more than 60 years.
EUCHNER safety switches and safety systems monitor safety doors and flaps on machines and installations, help to minimize dangers and risks, and thereby reliably protect people and processes. EUCHNER also has a broad range of products for the man-machine interface and switchgear for automation. Besides the safety switches, EUCHNER offers its customer a wide range of position switches, joysticks, handheld pendant station and electronical access management systems. The variety of products is essential to provide the right solution for specific tasks.
EUCHNER – More than safety.
EUCHNER GmbH + Co. KG | Kohlhammerstraße 16 | 70771 Leinfelden-Echterdingen
Phone: +49 711 7597-0
Fax: +49 711 753316
Mail: info@euchner.de
Website: www.euchner.de