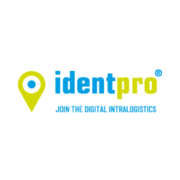 The

open




locating


standard.
All-time warehouse transparency through standardised real-time data
The importance of digitalisation for industry has become clear in recent years. Whether it's a shortage of skilled workers or resources, problems in the global supply chain or the climate crisis: only through full transparency can the supply chain be strengthened and the productivity of companies sustainably increased.
This is exactly where IdentPro's Warehouse Execution System comes in, creating real added value, planning certainty and significant increases in efficiency. With the smart IoT solution, all warehouse processes are mapped in a digital twin in real time. This warehouse data serves the intelligent algorithms of IdentPro's software as the basis for efficient planning of existing resources. IdentPro increases productivity by, among other things, optimally planning & distributing transport orders & routes of the existing warehouse fleet. The result is an increase in efficiency of 20-30%.
IdentPro's real-time localisation (RTLS) based on LiDAR is suitable for any type of industrial truck (e.g. for forklifts and AGVs) and also for any type of warehouse (indoor & outdoor). With this smart technology, many processes can be optimised and intelligently planned. By connecting with a complementary RTLS, such as UWB or BLE, there is a further cost reduction through a comprehensive and scalable solution. IdentPro's IoT solution requires no infrastructure change and enables real-time location of goods in large warehouses. Seamless collaboration and compatibility between these systems is ensured by Flowgate's DeepHub - the leading omlox middleware.
THE BENEFITS AT A GLANCE
- Real-time visibility in any type of environment
- Process automation and optimisation
- Real-time inventory management
- Lower infrastructure and hardware costs
- Standardised integration | High scalability
- No commitment to a specific provider
IdentPro's unique IoT solution sustainably increases the overall plant effectiveness of intralogistics with the digital twin in real time.
IdentPro's Warehouse Execution System creates full transparency, ensures inventory security & error-free deliveries, navigates manned & automated vehicles in collaborative use and significantly increases efficiency. Whether in the indoor or outdoor warehouse: With the digitalisation of intralogistics, IdentPro creates the necessary environment for smart automation.
Digital Twin: Full transparency through modern laser localisation and smart software
The software solution digitises the intralogistical warehouse with reliable laser technology. In contrast to other solutions via RFID, UWB or camera, IdentPro's solution is characterised by the creation of the digital twin with centimetre & second precision. Each physical good is detected by the lasers to an accuracy of +/- 10 cm and receives a digital twin in IdentPro's system. The IoT solution automatically identifies every movement of goods and synchronises the warehouse reality with the digital twin. Connections to ERP systems, WMS or WMS are also possible at any time.
Increased efficiency through track-and-trace of vehicles in real time
IdentPro's Warehouse Execution System is based on continuous, precise and repeatable vehicle localisation. No (construction) changes to the infrastructure are necessary for the implementation, as existing vehicles such as forklifts (manufacturer-independent) are equipped with IoT sensors. The sensors are used to record permanently up-to-date 3D information about the movement of the stored goods as well as the surrounding spatial geometry. By means of W-LAN or LTE, the system is in constant exchange with all the forklift trucks in use. This makes it possible to analyse empty runs, search times and inefficient storage scenarios. Even the use in the open-air area can be realised without further ado. Another advantage: the Warehouse Execution System can be used directly in the inventory.
Process optimisation through intelligent distribution of transport orders
The recorded warehouse data form the input for the intelligent software algorithms & the digital twin in real time. This results in the best possible distribution of all transport orders - generated by e.g. a warehouse management system - to the vehicle fleet at any time.
The Warehouse Execution System combines highly developed optimisation algorithms (AI Constraint Solver). Smart allocation of transport orders in real time with efficiency increases between 20-30% are the result.
Collaborative use of AMR
Today's autonomous or automated vehicles are not yet capable of performing all operations in the intralogistic flow. A collaborative deployment is therefore ideal to realise the full potential of the warehouse. Thanks to digital twin algorithms, IdentPro's AMRs enable the seamless identification and tracking of pallets, regardless of the vehicle type. This unique feature allows mixed fleets of manual and autonomous vehicles to be used optimally, depending on the application.
Conclusion: Full transparency of warehouse processes
- Delivery reliability: 100% inventory, planning & delivery reliability through real stock levels in real time.
- Lead times: Real-time optimisation of transport orders, reduction of empty runs
- Profit maximisation: Increase productivity by 20-30% with constant fleet size
- Collaborative use with autonomous systems: AMR for even more productivity
IdentPro was founded in 2007 with the mission of sustainably automating the intralogistics of every company with digital solutions. With our innovative software solution, we create complete transparency at all times, optimise warehouse processes and ensure that the utilisation of existing industrial trucks is effectively increased.
IdentPro GmbH
Camp-Spich-Str. 4
53842 Troisdorf
Germany
Phone: +49 (0)2241 / 866 392 - 0
Fax: +49 (0)2241 / 866 392 - 99
Email: info@identpro.de
www.identpro.de