Our partner:
Rosenberger Hochfrequenztechnik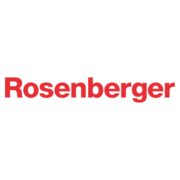 The
open
locating
standard.
Rosenberger is one of the world's leading manufacturers of impedance-controlled and optical interconnect solutions in high-frequency, high-voltage and fibre-optic technology.
The product range covers RF coaxial connectors, components and accessories, RF measurement products as well as cable assemblies for mobile communication networks, data centres, industrial test & measurement, automotive electronics as well as for high-voltage contact systems, medical and industrial electronics as well as aerospace engineering. The Custom machining division manufactures customer-specific precision parts from all machinable materials for various industries such as the automotive and commercial vehicle industry, ship building or classic mechanical and plant engineering. With omlox, Rosenberger steps into the field of interoperable locating solutions and works on adapting and further developing the open standard interfaces with own solutions.
Worldwide, the Rosenberger Group operates manufacturing and assembly locations as well as Rosenberger sales offices in Europe, Asia and North and South America where – in total – approx. 13,300 employees develop, produce and sell our products. Rosenberger Hochfrequenztechnik GmbH & Co. KG with its headquarters in Fridolfing/Germany, where more than 2,800 people are employed today, was founded in 1958 and has been family-owned ever since
Rosenberger Hochfrequenztechnik GmbH & Co. KG
Hauptstraße 1
83413 Fridolfing
Phone: +49 8684 18-0
Fax: +49 8684 18-1499
Email: info@rosenberger.com