Our partner:
SynchronicIT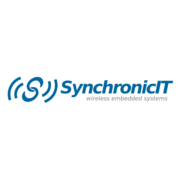 The
open
locating
standard.
We are a team of passionate people whose goal is to improve everyone's life through innovative products.
We provide precise real time location data using wireless hardware, disruptive software solutions and embedded wireless products to solve your business problems.
A major focus since 2015 is making UWB technology accessible and convenient to implement. As part of the omlox Core Zone tiger team, SynchronicIT contributes to the definition of the omlox Core Zone standard integrating our proven experience in scalable UWB based RTLS solutions.
SynchronicIT can provide OEM RTLS solutions (proprietary and omlox compliant), UWB / RF sub-modules and/or can function as a design house for custom designs with production facilities.
On the software side, an omlox Hub compliant middleware is available to integrate. Depending on the application, UWB can be combined with BLE, LTE, GPS, NFC and even satellite communications in products designed by us, currently used all around the world. To allow a fast time to market, SynchronicIT is creating an omlox Module which can be integrated into tools, tags or even to be part of an omlox satellite.
Vincent van der Locht
Managing Director
SynchronicIT BV
Spoorstraat 155
6591 GT Gennep
The Netherlands
Email: info@synchronicit.nl
Phone: +31 654 655 626