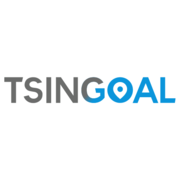 The
open
locating
standard.
Tsingoal, a world-leading provider of precision locating algorithm, products and solutions, is the one and only Chinese member as a UWB solution provider recognized by UWB Alliance and one of the ten voting members of FIRA.
Dedicated to the development of UWB (Ultra-Wide Band) locating algorithm and IoT solutions for 8 years, Tsingoal has provided millions of UWB terminals for customers from 45 countries and regions.
We are proud to boast a team of over 200 talents, more than half of which come from prestigious universities like Tsinghua University and make up the research department, and determined to become the most acknowledged and trustworthy IoT (Internet of Things) company across the globe.
Here in omlox, we will continue to make our solutions omlox compatible and empower more companies from various industries with the latest RTLS (Real Time Locating System) technology and solutions and look forward to connecting with more tag suppliers, software and APP developers, system integrators, and solution providers to bring RTLS into full play.
We provide a full set of RTLS products, including locating anchors, tags for both people and asset tracking, a high-robust positioning engine, and software platform, for various application scenarios like healthcare, logistics & warehouse, manufacturing, smart city, etc.
UWB System
Featured by its high precision of 0.1m, Tsingoal RTLS solution is supported by UWB technology which locates the accurate position of a tag in real time through measuring the travel time of wireless pulse and the absolute distance between locating gateways and tags.
RTLS Applications
Under an indoor scenario and with the help of GIS-based software, open API system and a big data platform, as long as gateways are deployed and tags are attached to people, vehicles, and assets, multiple applications will be put into use, including real-time locating and tracking, sensitive alerting system, trace recording, regional management, camera linkage, big data analysis, etc.
Value-added Services
Tsingoal offers a customized solution for secondary development of our original LocalSense locating system and other software development to satisfy one-dimensional, two-dimensional, three-dimensional and regional locating demands.
Over the years, our partners have reached 100+, we have carried out with 200+ application cases, and the accumulated location data generated by the project platform are also exceeded 400 billion. We build our name and reputation in the fields with industry-proven quality products, professional solution capabilities and reliable after-sales service.